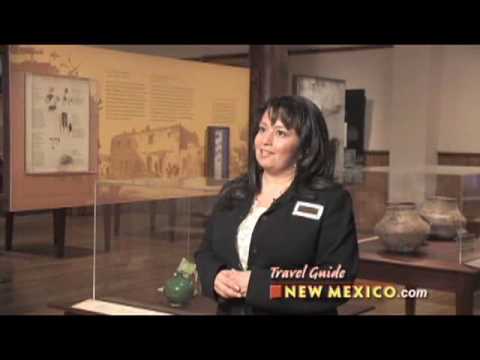 Rather than telling visitors what 'happened,' the New Mexico History Museum presents a theatrical environment and the engaging stories of the many cultures that have called the Land of Enchantment home.
The New Mexico History Museum includes interactive multimedia displays, hands-on exhibits, and vivid stories of real New Mexicans. As a 96,000-square-foot extension of the 400 year-old Palace of the Governors – the oldest continually occupied government building in the US – the New Mexico History Museum anchors itself on the historic Santa Fe Plaza and offers a sampling of the people and the legends to be found throughout the state.  Modern history museums know that individual accounts are often their most treasured artifacts.
With stories from and about New Mexicans like Po-pay, Juan de Oñate, Kit Carson, Billy the Kid, Adolph Bandelier, Earnest Blumenschein, Robert Oppenheimer, and the '60s-era counter-culture, the New Mexico History Museum sweeps through centuries of human interaction. The museum is located on the Historic Plaza in Santa Fe Next to the Palace of the Governors, 113 Lincoln Avenue, Santa Fe, NM, 505-476-5200.