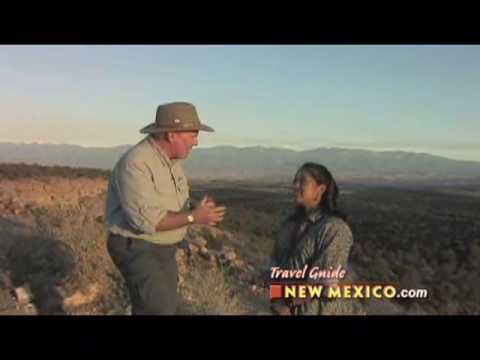 In this video, Richard and Travel Guide NEW MEXICO visit the Puye Cliffs. For more than three centuries  from the late 1100s to 1580,  Puye Cliffs was home to 1500 Pueblo Indians who lived, farmed and hunted game there. In the late 1500s, Puye Cliffs inhabitants moved into the Rio Grande River valley, likely due to drought that caused springs to dry up and crops to fail. Puye Cliffs inhabitants are ancestors of the present-day Santa Clara people, who now live at Santa Clara Pueblo, ten miles east of Puye.
Puye Cliffs consists of two levels of cliff dwellings cut into the cliff face, as well as dwellings on the mesa top. The first level is over one mile long and runs the entire length of the base of the mesa. The second level is about 2,100 feet long. Stairways and paths were cut in the face of the rock to connect the two levels and to allow people to climb to the top of the mesa. Dwellings on the mesa top are examples of Pueblo architecture and were part of a single, multi-storied complex built around a large, central plaza.
The complex is known as the Community House or Great House. While the actual number of rooms is unknown, the south part of the complex had 173 rooms on the ground floor, with multiple stories in various places, similar to modern-day Taos Pueblo.
The largest of all settlements in the Pajarito Plateau, Puye Cliffs was excavated in the summer of 1907 by Adolf Bandelier, in cooperation with the Southwest Society of the Archeological Institute of America. It was the first of the ancient Pueblos of the Rio Grande Valley to be systematically excavated, and was named a National Historic Landmark in 1966.