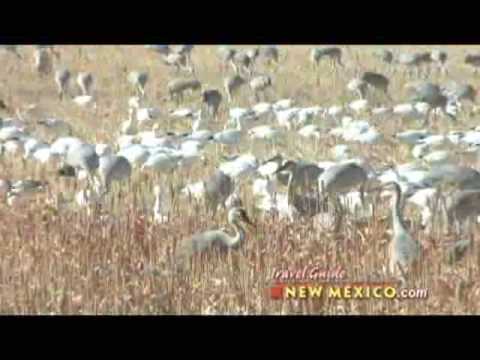 Bosque del Apache is Spanish for "woods of the Apache," and is rooted in the time when the Spanish observed Apaches routinely camped in the riverside forest. Since then, the name has come to mean one of the most spectacular National Wildlife Refuges in North America. Here, tens of thousands of birds–including sandhill cranes, Arctic geese, and many kinds of ducks–gather each autumn and stay through the winter. Feeding snow geese erupt in explosions of wings when frightened by a stalking coyote, and at dusk, flight after flight of geese and cranes return to roost in the marshes.
In the summer Bosque del Apache lives its quiet, green life as an oasis in the arid lands that surround it.  The Refuge is 57,191 acres located along the Rio Grande near Socorro, New Mexico.The Refuge is located at the northern edge of the Chihuahuan desert, and straddles the Rio Grande, approximately 20 miles south of Socorro, New Mexico. The heart of the Refuge is about 12,900 acres of moist bottomlands–3,800 acres are active floodplain of the Rio Grande and 9,100 acres are areas where water is diverted to create extensive wetlands, farmlands, and riparian forests. The rest of Bosque del Apache NWR is made up of arid foothills and mesas, which rise to the Chupadera Mountains on the west and the San Pascual Mountains on the east. Most of these desert lands are preserved as wilderness areas.
Managed by the U.S. Fish and Wildlife Service, Bosque del Apache NWR is an important link in the more than 500 refuges in North America. The goal of refuge management is to provide habitat and protection for migratory birds and endangered species and provide the public with a high quality wildlife and educational experience.
The Bosque del Apache Visitors Center hours are M-F 7:30-4:00, Weekends: 8 -4:30.  There is a tour loop open daily, 1 hour before sunrise – 1 hour after sunset.